The Next Season of Life Workshop (50+ and Retirees)
03nov10:00 AM3:00 PMThe Next Season of Life Workshop (50+ and Retirees)
Event Details

A transformational and informative workshop that delves into facets of aging and retirement such as senior living, health, finance, etc.
The Next Season of Life Workshop (50+ and Retirees)
Join us for an exciting in-person workshop designed specifically for individuals aged 50+ and retirees. Discover the endless possibilities that await you in this next chapter of your life. Whether you're looking to explore new hobbies, embark on adventurous journeys, or simply find ways to make the most of your free time, this workshop has got you covered!
Date: Friday, Nov 3, 2023
Time: 10:00 AM (Central Daylight Time)
Location: 1900 Jay Ell Drive, Richardson, TX 75081
Cost: $15 per person/$25 couple
During this workshop, you'll have the opportunity to connect with like-minded individuals who are also navigating this exciting stage of life. Our expert speakers will share valuable insights, tips, and resources to help you make the most of your aging and retirement years.  Plus, engage with a few exhibitors to assist you with many different needs.
Breakout sessions choose from include:
Health and Wellness
Finance
Senior Living
Lifestyle and Fulfillment
Caregiving
Don't miss out on this incredible opportunity to embrace the next season of your life with enthusiasm and excitement. Reserve your spot today and embark on a journey of endless possibilities!
Here is some information about the keynote speakers:
Dr. Deborah Newman will cover" Passages of Transformation. She is a world-renowned author of over 10 books such as Passion on Purpose, A Woman's Search for Worth, and others. She is an experienced minister to women and congregational and still works as a licensed professional counselor. Learn more about Dr. Newman. https://www.amazon.com/stores/author/B001JPCSM8/about
The lunch keynote speaker will be Doug Fraley – an American author and coach based in London-Ireland. He's from West Point, Rhodes Scholar, McKinsey, Google-Europe head of HR-Engineering among many accomplishments. He will attend through live-virtual to discuss "Radical Ownership, Interdependence and Fulfillment." Learn more about Doug.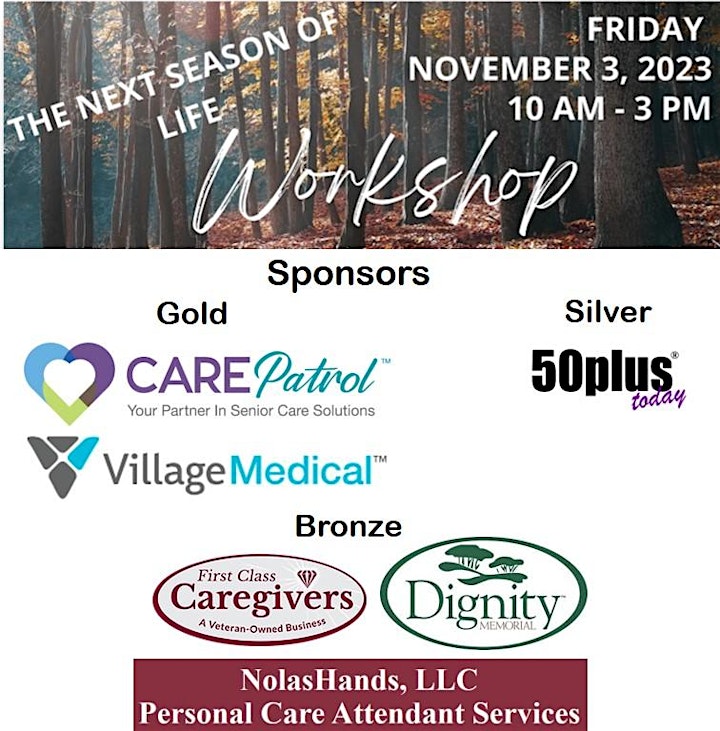 more
Time

(Friday) 10:00 AM - 3:00 PM
Location

The Drawing Board

1900 Jay Ell Drive, Richardson, TX 75081