Unusual gifts for older women and men are hard to find these days. Sometimes it seems the stores, online or brick and morter, all carry the same old stuff. I look for ideas and inspiration online often and here are some of my favorite websites for fresh inspiration!
We love this website! Artsy, contemporary, sometimes whimsical, well-priced AND unusual items for all! Home decor, jewelry, holiday items, outdoor art and more! Spend some time looking through this site, you will find lots of gifts (and lots you will want to buy for yourself!).  GO TO MODERN ARTISANS
These well-priced 3D Lovepop cards, which are available for every occasion, are so beautiful they are actually a gift in themselves. The intricate and unique designs last far longer than live flowers and look beautiful displayed on a shelf. This is a small gift that packs a big punch.  My favorite Lovepop cards to send are those that open into a full bouquet of brightly colored flowers! You may have seen these cards on Shark Tank awhile back when the founders received a deal with Kevin O'Leary. GO TO LOVEPOP CARDS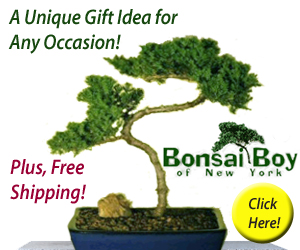 Send something different – go green with an eco-friendly bonsai tree! These trees symbolize harmony, honor. patience and happiness amongst friends and family. All that and beautiful too! Lots of varieties from which to choose. You will be surprised how much your loved one appreciates this living gift.  GO TO BONSAI BOY OF NEW YORK
Keeping your brain stimulated is a must as we age. Jigsaw puzzles boost cognitive function and memory, are great stress relievers, and lots of fun. Wooden Jigsaws offers puzzles in all kinds of themes such as art, nature, space attractions, and more. They even have personalized puzzles! Challenge your loved one with a beautiful and unique gift this year.
If the recipient is new to jigsaws, start with a 500-piece puzzle with larger pieces. For those with more experience, you might want to try one with 1000 pieces. GO TO WOODEN JIGSAWS
What a unique gift for the craft beer lover! This monthly club delivers the finest American craft beer right to the front door. From ales and lagers to porters and stouts, a beer of the month club helps recipients discover exceptional craft views from around the country.  Each compelling selection is produced by small-production, independent brewers who use only traditional brewing ingredients and time-honored brewing methods. This means CraftBeerClub.com's monthly selections are flavorful, high-quality beers that are very different from mass-produced, high-profile versions. GO TO THE ORIGINAL CRAFT BEER CLUB
Do you have other sites to share for unique and unusual gifts? Share them in the comment section below.