by Anissa Gray
Ups and Downs of Menopause
The golden age of graying
Women of a certain age appear to be having a moment I hope lasts forever. Some call going gray the new "power move" for women at work. A septuagenarian graces the cover of Sports Illustrated's Swimsuit edition. There's Forbes' list of female luminaries, its "50 over 50." Having turned the corner at that milestone myself, I am feeling pretty good about things. Looking forward to a post-fifty life of opportunity in this golden age of graying.
Along the way, however, I find myself experiencing something of a test. A hot flash-fired crucible, if you will: My menopausal experience became unexpectedly grueling.
But incredibly revelatory, too.
I initially cruised through perimenopause to midlife with nary more than the occasional night sweat. Perimenopause is the embarkation point on the journey to menopause. It usually hits in one's forties when estrogen levels naturally taper off and can bring anything from trouble sleeping to mood swings. Symptoms vary but, all told, the crossing from perimenopause to post menopause can last up to a third of one's life. However, the need to undergo a complete hysterectomy accelerated my journey. For me, and thousands of women like me, that meant entering what's called "surgical menopause." People warned me, in ominous tones, that surgical menopause can be "extremely difficult." The reason is, estrogen levels drop off a cliff, and the effects on the many estrogen-influenced systems—mood, memory, etc.—hit with immediacy and, sometimes, severity. I wasn't prepared at all for what was to come. And it appears I was in good company, broadly speaking. A recent survey found nearly two-thirds of women said they were entirely unprepared for menopause.
Conversations about menopause
My lack of preparedness was rooted in the near silence that surrounds this transition, despite the fact that it's a rite of passage for virtually every woman on the planet. And it's happened forever. But things are changing. Women like Tracee Ellis Ross, Michelle Obama, and more are talking openly about their experiences. On the internet, there is, among other things, the Swell, an on-line community for the middle aged. Their most recent menopause symposium featured Katie Couric and other big names. Entrepreneurs also now realize we exist, and they're betting that a lot of us might be willing to pay good money for relief from some of the more vexing symptoms of menopause (they're not wrong). That survey I mentioned earlier was done by a venture capital firm that sees menopause as a $600 billion dollar business opportunity, and it's investing accordingly. But these changes are relatively recent. In the before times—my coming-of-age time—menopause seemed shrouded in darkness and taboo. As a Gen Xer, growing up, I sometimes heard my mother and other women talk euphemistically about "the change." There were references to hot flashes. Talk of a kind of amorphous misery. Whispers of the risk of "nervous breakdown," if one's change did not go well. This midlife phenomenon was ultimately explained to me as something that would happen in the fullness of time, and I was told I should not worry myself too much about it.
Experiencing the change
Well, the time has come.  While "the change" is something of a euphemism, it is an apt one because in many ways, it feels like a kind of transformation. It is as if an unseen force seized the controls to everything from my internal thermostat to my brain. A brain that is now prone to a level of forgetfulness and cloudiness that impacts every aspect of my life in ways both comic and disturbing.  It might be related to my ability to focus on my next novel, find my car in a parking lot, or recall what someone told me or what I said or what I thought about five minutes ago. But the worst of it is the depression. Not just being down. Real depression. Something I never before experienced. It gave me an understanding of, and appreciation for, what so many people struggle with for the better part of their lives and the disregard often shown for the sheer force of will it take to perform even the most basic task when in depression's grip. It is humbling for someone who has long known herself to be energetic, focused and, crucially, in control.
I've had enough therapy to know that one is never truly in control. Nevertheless, this did not stop me from exerting an extreme discipline over everything from my work life to my emotions. Particularly my anger. That control, however, seems diminished along with my estrogen levels. Tears come unexpectedly and often unexplainably. I sometimes lose my temper without warning and with minimal, if any, restraint. I appear to no longer have much of a filter in anger-inducing situations.
This initially distressed me. Who is this person? I ask myself sometimes. But I am slowly getting to know her.
The ups and downs of menopause
These changes are not a prelude to falling apart or a sign of decay. For me, this is a flowering. There is something to be said about losing it, from time to time, and seeing that the world does not crumble. Rather it shifts as those around you come to understand that you're not going to take quite as much crap as you used to. There's a release in it. And in my case, that release has given way to a sense of freedom that made me care a little bit less about expectations. Made me quite a bit more willing to say yes to new, uncomfortable challenges. Or no, when something truly is not for me.
A joyous new phase of life
I talked recently about this with a friend. She is eighty-two years old and thoroughly enjoying her postmenopausal life. She has a memoir behind her and what she described as a "joyous new phase of life" ahead. As she tours and tells her story, she reminded me that that release, that sense of freedom, they are precious, almost magical things—no matter how they come to us.
Of course, mine came by way of hormonal shifts. And though I would very much love to have my memory back and would choose not to be dealing with depression or hot flashes that are frequent and most often ill-timed, I believe that, ultimately, this crucible is making a freer more fearless woman out of me. And if I could, I'd sprinkle a little of this magic on everyone.  At any age.
About the Author: Anissa Gray
Anissa Gray is the author of the 2019 novel THE CARE AND FEEDING OF RAVENOUSLY HUNGRY GIRLS. She is also a journalist, whose work has appeared on CNN and in The Washington Post, The Cut and Shondaland. Anissa's upcoming powerful fiction novel, LIFE AND OTHER LOVE SONGS (Berkley Hardcover; April 11, 2023) explores the realities of race, class, and generational history in the twentieth century, as it follows one Black family in America from the Great Migration to the 1990s.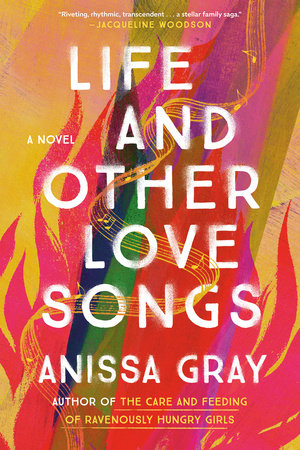 RELATED ARTICLES
10 Reasons Aging is Awesome 
Why Regular Exercise Is Essential for Aging Well
Why Older is Better (It's Not Just Wine)