by Ellen Blake
Resources for Caregivers
Caregiving is hard… both physically and emotionally. 
I am a caregiver for elderly parents who live out of state. I go as often as I can to help out, but it's not easy. There never seems to be enough time in the day. I am fortunate to have a wonderful support system to help in a pinch, but still, the situation causes an abundance of worry. Over the years I've come across a number of small businesses offering unique resources that proved extremely helpful and help make life easier and more fun. Most of the ideas from which these inspirational companies grew started as a need to find a solution to a personal problem. These entrepreneurs found a way to remedy a difficult situation, then set out to help others.  Here are some of my favorite resources for family caregivers:  
StackCare's Smart Monitoring System allows older adults to maintain their independence and age safely in the comfort of their own homes.  At the same time, this brilliant product provides families with peace of mind to know that their loved ones are ok. This system has a minimalist design that discreetly blends easily into your loved one's home. There are no cameras or microphones, nothing to wear and no buttons to push. The system is simple to install, user-friendly and affordable.
StackCare's infrared motion sensors gather simple data and learn individual behaviors and typical activity patterns. Its smart technology detects unusual motion patterns that indicate a potential fall or a health issue, then sends out notifications and alerts to families' mobile devices in real-time, day or night.
I have these sensors installed in my folks' home and they help curb my anxiety more than I can say. LEARN MORE (USE CODE 50PLUS FOR 15% OFF!)

Dignity Pajamas makes soft and comfortable easy-on, easy-off pajamas for both men and women. These 100% cotton garments have velcro closures in the back so the little energy your loved one has is not wasted on wrestling with clothing, but instead enjoyed and cherished. In addition, these adaptive open-back sleepwear designs make assisted dressing by a caregiver stress-free. 
The sophisticated prints and soft fine detailing used in making this sleepwear are for the discriminating customer. There is something for everyone, including pajamas for  men or beautiful lace trim nightgowns for women. All have open backs and velcro shoulder closures.
What I love most about these products is that they help preserve your loved one's dignity at a difficult time of life. Have you ever visited someone at the hospital or a nursing facility and noticed that their dressing gown is open at the back for all to see? Or perhaps you noticed someone wearing a t-shirt that was cut down the middle of the back for easy access? Most people want to look nice, or at the very least, have their bodies covered sufficiently; Dignity Pajamas helps make this happen for them. Two thumbs up for this creative solution to a common problem!  LEARN MORE 
Love to travel? Don't let aging or a disability stop you! Easy Access Travel specializes in accessible vacations for individuals with physical disabilities and their families. The owner, Debra Kerper is a double below the knee amputee herself. She decided years ago that her physical situation was not going to hold her back from traveling. As someone who completely understands the difficulties that might arise, she expertly plans tips to meet the needs of everyone in her groups. She has the knowledge and the know-how to plan vacations with accessibility in mind. I'd like to add that she is an extraordinarily inspirational guide who takes care of all he seemingly overwhelming details involved in this kind of travel for you. The result is a stress-free experience for you and your family. As Debra says, the opportunities exist, the choice is yours – call her when you're ready to travel!  LEARN MORE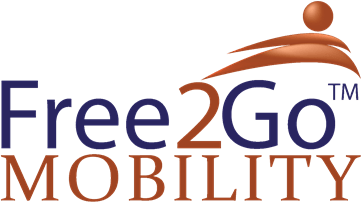 Free2Go Mobility Products offers durable medical equipment (DME) that are "free to go" – safe, portable, discreet, and most importantly, promote independence. Their award-winning and patented Free2Go Rollator combines the benefits of bathroom safety and mobility, allowing individuals with mobility issues to safely use a toilet in ANY restroom – at home, in the homes of family and friends, in medical and business offices, and in public restrooms.  
At first glance the Free2Go Rollator looks like a regular rollator, an assistive device with which many of us are familiar. In case you are not, a rollator is a walking frame equipped with wheels, handlebars and a built-in seat. It is especially designed for someone with a disability. Lesli Wang came up with the idea to add a raised toilet seat and toilet safety frame to the rollator after her elderly mother got stuck in the commode at a restaurant. Her invention not only allowed her mom to continue to enjoy going out, but also helped restore her diginity and independence. 
The 3-in-1 benefits of a raised toilet seat, toilet safety frame and walking aid make the Free2Go Rollator ideal for travel. It's toilet safety made simple.  LEARN MORE

Christy Pickrell, the founder of Our LIttle Peace of Mind, has over 30 years of caregiver experience coordinating and organizing healthcare needs for families. And she is waiting to help you! This wonderful business creates customized Medical Binders & Personalized Portfolios.
Their products are designed to help organize and coordinate care between all those working with your loved one. Doctors, family members, teachers, caregivers, and other individuals interact with you or your loved one on a regular basis. Excellent communication between all these people is essential, especially in emergency situations.
The Customized Medical Binder is designed for organization, ease of use, and tracking your or your loved one's health and activities. The fun, easy logs track everyday health needs. In addition, they provide a quick reference to the doctor's contact information and current health record.
The Personal Portfolios are guidebooks to working with people who might not be able to speak for themselves. It's amazing how these organized personalized binders can provide insight into the care and needs of these individuals.  That is accomplished by providing insight on history, likes/dislikes, daily schedule, and personal photos.  Someone with Alzheimer's would have visual reminders and queues to remember doctors, caregivers, and family.  Doctors, teachers, and caregivers of those with Autism would have the basic details of what makes them happy or sad, how they react to situations, and how to resolve issues they might encounter.  LEARN MORE

I need to add one extra item to this list that not a product or service, but a wonderful little book called, Creative Caregiving and Beyond: Helping Mom & Dad. I consider this small but mighty paperback essential reading for families caring for elderly parents.
As we all know, caregiving is not easy; it is difficult to watch loved ones deteriorate with age and require help with everyday tasks. Family dynamics can complicate the situation further, especially if our parents don't want help or if siblings disagree on important decisions. 
As the author, Wendy Williams Whiteman, is both a caregiver for her mother and an Elderlaw Attorney,
she is well aware of the struggles families often encounter along the way.
In her book, Wendy invites the reader into the lives of the Elder family. She expertly weaves a realistic tale of problems that arise as the siblings work together to care for their parents. Through their story, she presents possible new approaches and ideas related to caregiving. Her goal is to help families decide on the course of action that best fits their unique situation. This book is a quick read and breaks down complicated and emotional issues into easily digestible pieces.  Highly recommend.   LEARN MORE
Do you know of other innovative new businesses that create resources for family caregivers? Please tell us about them in the comment section below!