SEPTEMBER 2021 SECOND ACT OF THE MONTH AWARD
Each month, we give the 50PlusToday SECOND ACT Award to an individual who made an intentional decision to change gears in this phase of life. It's our goal to recognize and support people who reinvented themselves at age 50Plus and we choose recipients who are creative, innovative and inspiring to others. Their pivot might involve a new career, business, community effort or lifestyle. A successful, happy and meaningful life means different things to different people; reading what others did might start you thinking about your next journey! The bottom line is that your second half of your life can be as good as, if not better than, the first!  We hope to inspire our readers with success stories from others. (Is there someone you know that created a wonderful second act that you would like to nominate? Complete this form to submit their name for consideration!
The recipient for September 2021 is Steve Woodburn
Steve's Journey...
50PlusToday asked Steve Woodburn questions about why and how he chose to make his career change. Here's what he told us:
50PlusToday: What did you do before starting your entrepreneurial journey?
SW: I majored in theatre arts in college and my first career (for 20 years) was working on-air in radio as a disc jockey, news anchor, news reporter and traffic reporter (from airplanes and helicopters). When I decided it was time to leave radio, I fell into the world of promotional products and promotional marketing and spent 34 years selling custom branded products to businesses and working for a manufacturer of various promotional items. In April of 2020 I was laid off due to the effects of closing down the economy (COVID) and a 70% drop in sales with the company where I worked.
What you are doing now (and for how long)?
SW: Have you ever seen a moose with blue hooves? My wife and I created Marvelous Moosey, a moose with blue hooves because he is unique and marvelous. We hope his story will help children and adults understand it's OK to be different and to embrace their uniqueness. I handle the day-to-day tasks of running Marvelous Moosey Adventures LLC. That involves looking for partnering opportunities to posting on social media, keeping the website up-to-date, reaching out to the media, arranging for replenishment of inventory and fulfilling orders. We launched our website site a little less than a year ago and my job is working to build our presence and sales.
What passion led you to start this new endeavor?
SW: Almost everyone in my family was a small business owner at some point in their lives; aunts, grandparents, parents, brother and even my two sons. I always wanted to own a business, and the inspiration for a moose with blue hooves gave me the passion and drive to jump in with both feet.
How does your age and experience help in your success?
SW: With age comes experience and knowledge, both of which are valuable in starting a business. Had I started this venture at age 25, I might not have had the skills to make it work. Running a start-up business means adapting and learning on-the-run, stepping out of one's comfort zone and taking risks that could lead to failure. But age also taught me that there is no success without failure. When you hear someone is an "overnight success", that usually means they spent many years working and failing before finally finding the right formula to achieve their dreams.    
What unique skills did you have from previous job/ business/lifestyle that help you in this new position?
SW: I believe everything I learned over the years contributes to my creating a successful business in my second act. My skills include creative writing, understanding the complexities of importing custom products from overseas, photography, sales, pitching ideas, social media, finances, graphic design, and a basic understanding of how to use technology to generate publicity. All of these skill come into play almost every day as I work to build the presence of our brand and products.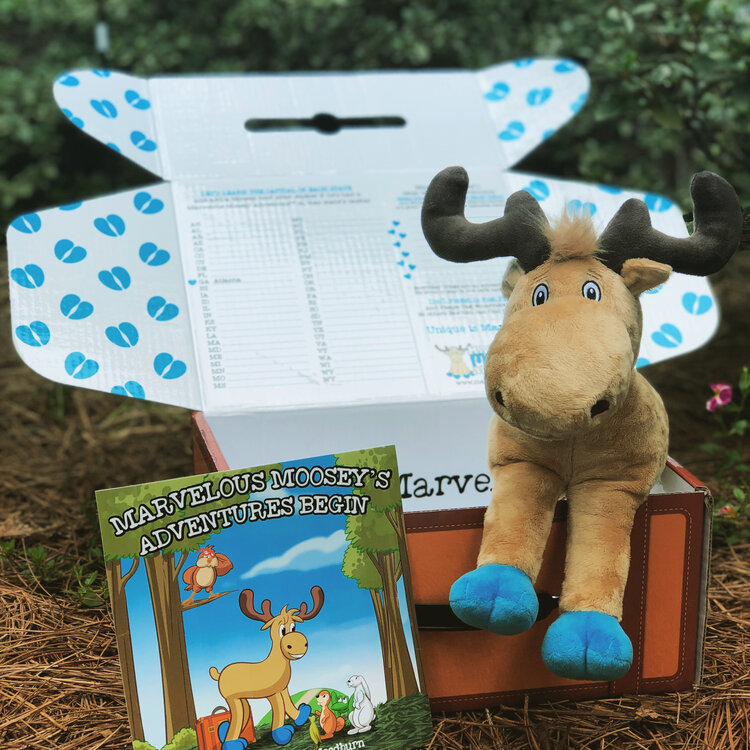 What advice would you give someone in this age group searching for their meaningful second act?
SW: If you have an idea for a product or service, don't wait to  get started!  Ignore those who might denigrate your idea and don't be afraid to fail. Creating a brand around a moose with blue hooves who is unique and marvelous is kind of a crazy idea. But so was the Pet Rock, bottled water, Craigslist and the Snuggie. If you are passionate about an idea you believe brings value to others, formulate a plan and get started. You never know what you can do unless you try.
Three random facts about Steve:
I blow my nose like a moose (according to my wife), which is partly where I got the idea for my Marvelous Moosey character

I co-wrote a play about the life of Emmett Kelly, Sr., the world's most famous clown in his day, and we held a New York City reading using leading Broadway actors.

I'm a history buff, especially American history. Between business books, I read constantly about the events that led to the creation of our country and everything that happened since. Some might call that dull, but it's fascinating for me.
About Steve Woodburn
Steve is the co-creator of Marvelous Moosey, LLC. His motto is "Unique is Marvelous."
Have you ever had blue hoof moments in your life? Those times when you feel different from everyone else? Marvelous Moosey, a moose with blue hooves, literally came to us out of the blue and nudged us in the most gentle way to help him find others just like him in the world. And that's our mission. Find people like you, to adopt Moosey, take him with you wherever you go and look for other moose with blue hooves. When that connection is made and friendships are developed, we hope you'll share your experiences and post your pictures and videos on your social media pages for all to see. His passion is to develop a character and brand that brings joy to children and to those who remain young at heart. And to remind the world that being Unique is Marvelous. Join us in creating your own adventures with Marvelous Moosey!
Learn more about Marvelous Moosey:
Website
Facebook
Instagram